Luxurious Stay At Pench
Vannraj Resorts
Stay At vannraj resort
Vannraj, located on the border of Pench National Park, is a luxury safari lodge set within a dense dry deciduous forest. The property celebrates the best of regional architecture, culture and cuisine so that guests can immerse themselves in the natural beauty of the region while experiencing authentic central Indian hospitality. Our endeavor is to provide a meaningful and unique experience to guests, while ensuring the future protection of India's spectacular wildlife and natural heritage.
Pench National Park
Pench National Park claims 758 sq km of the lower southern ranges of the Satpura hills of Central India. The park is named after the River Pench which divides it into Seoni and Chhindwara districts.
location- The park is located near Turia gate, Seoni district, Madhya Pradesh. It is Just 90 Kms from Nagpur City, Maharashtra (1.5 hours appx)
which is easily accessible via air, road, and railways.
The resort can organize a comfortable and convenient pickup and drop off service from Nagpur airport/station or any other place as per your convenience. A meet and greet service can also be arranged if required by an English or Hindi speaking representative.
Get Access to
All Amenities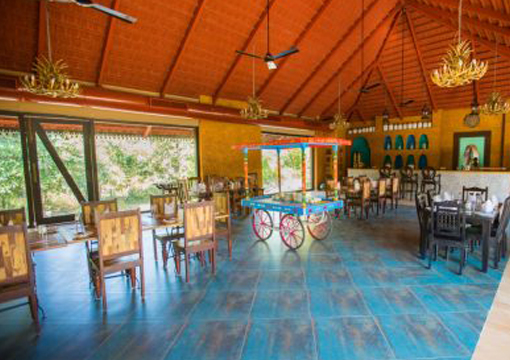 Dinning
Dinning experiences with plenty of wow-factor, to fantastic deals at the popular places of jungle,
eating a little of everything and matching things in the refined way.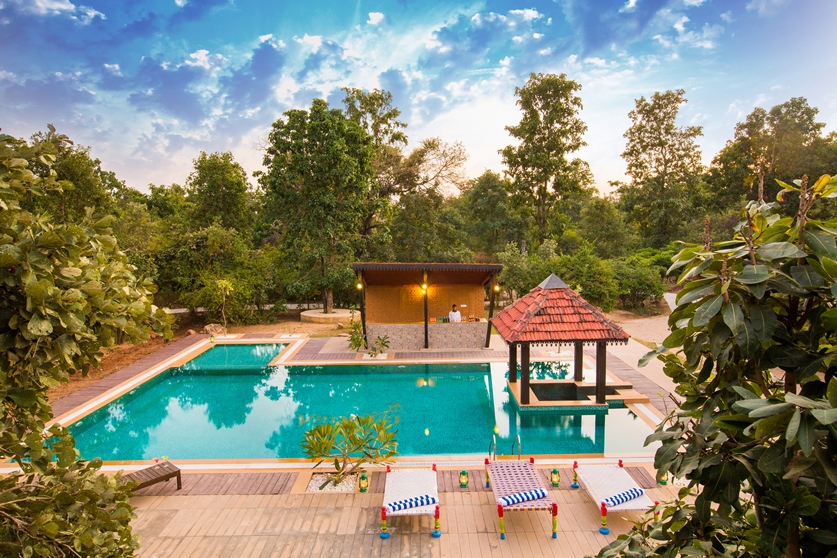 Swimming Pool
Relaxing Touch, The spa-like atmosphere, Natural Falls, Soothing Spillways, Miniature Spillways & Entertaining Swim-Up Bar.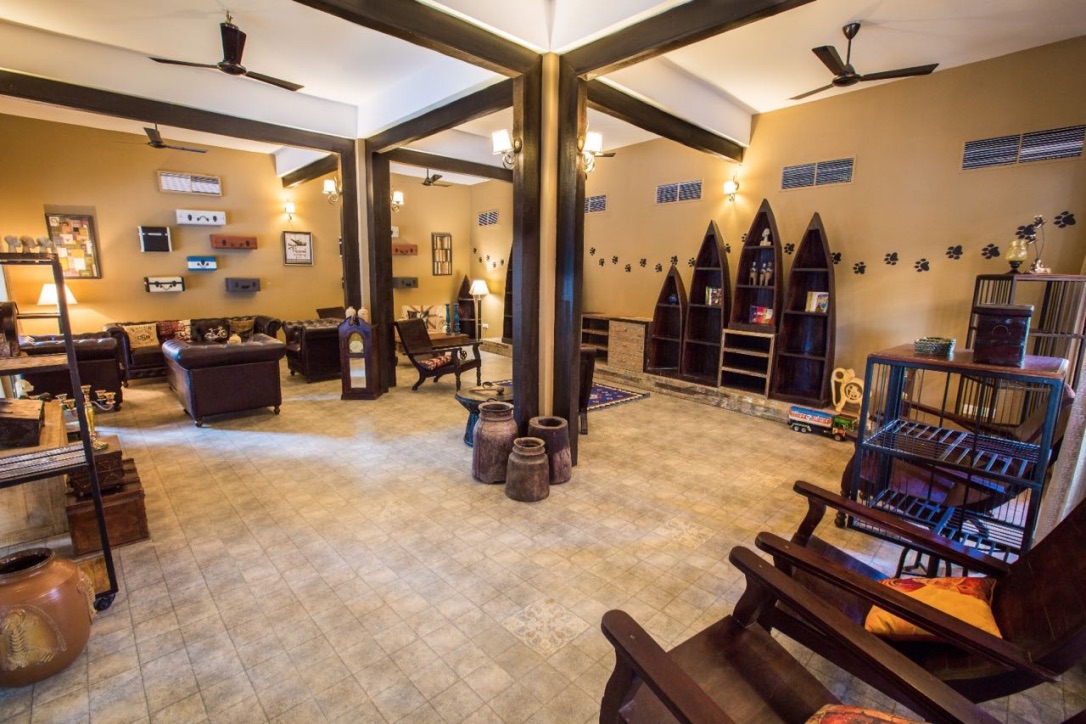 Library
A library is a place where one feels at home and loves spending holidays. Keeping this in mind we have a library which meets the requirement of our clients.
What we do
Experiences At Vannraj

Nature-Safari & Jungle Walk
A jungle walk is an exciting way to explore the nearby buffer area of the forest. Embrace your inner explorer as you move through the thick vegetation, listening to bird calls and identifying animal tracks.

Village Life
Venture a half hour from Vannraj to spend the afternoon in the potter's village, Pacchhdhaar. This small village which is home to just a few families all of whom are involved in pottery, offering a fascinating glimpse into this traditional craft.

Wellness & SPA
Enjoy SPA services at vannraj which Stimulates the lymphatic system to rid the body of toxins. Releases Serotonin and enhancing the "feel good" factors. spas include massages; facials,body treatments like exfoliation, wraps and packs; aromatherapy.

Ayurveda
Ayurveda is an ancient lifestyle practice which aims to create harmony within the body. Practised widely in India. Ayurvedic spa adopts ancient healing and cleansing method to promote overall wellness of individual & offers holistic treatment that rejuvenates person's mind body as well as spirit.
Jungle Safari
Pench National Park
The safari experience is integral to what Vannraj offers. Our well trained Naturalist has an unparalleled understanding of the local flora and fauna. With their insight, the park comes alive and everything from a porcupine quill to a tiger's footprint becomes part of an incredible narrative of survival. Safaris are all conducted in state-of-the-art four-wheel drives, which are least intrusive to the flora and fauna. The park is closed on Wednesday evenings.
Celebrations!
Vannraj by Ayana provides you with a range of inspiring spaces for all your celebrations and meeting requirements. From family get-togethers to business conferences, you can expect curated menus, personalized planning and unique venues to make your gathering unforgettable.
Conference Hall
For Business meetings & can accomodate 50-60 people
Manicured Lawns
For wedding celebrations. Serves 100-150 people
Restaurant & Deck by the Swimming Pool
For Private parties & Celebrations. Serves 80 – 100 people
Vannraj
In-house Activities
Gaming Zone
The Gaming Zone is an exciting, innovative and creative social enterprise that provides free, open-access facilities and support for children and young people. Game zone will provide an electrifying and a never-before real gaming experience for people who loves to play games.
Pool Table
Vannraj offers Gaming zone to spend quality time with your friends or family members over the pool table with some Delicious snacks and drinks. It Improves stretching, balancing power, Sharpens your mind, Improves hand-eye coordination greatly, Provides fun for all, regardless of age.
Resort Address
Address:
Vannraj Resort, Village Jamun Tola,
PO Khawasa, Dist. – Seoni,
Madhya Pradesh.
Email:
info@vannrajresorts.com
Phone No:
+91 7887889922